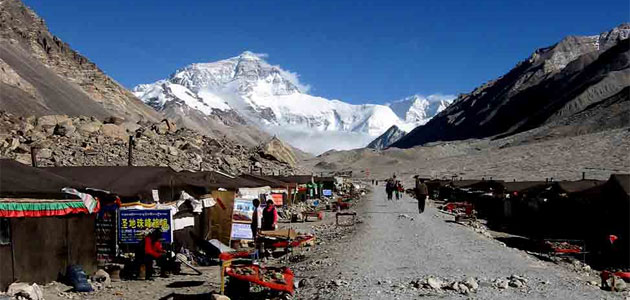 This tour literally combines the best of both worlds – the cultural splendors of the city of Lhasa are supplemented by a jeep trip to the base of the highest mountain on earth! Additionally you will have an opportunity to visit the historic monastic town of Gyantse, Yandruk Tso – the beautiful turquoise lake – and Shigatse, Tibet's second largest (and historically significant) city.
The excursion starts in Kathmandu with a four hour scenic drive to Kodari (the border town of Nepal) – the group then crosses the Friendship Bridge and meets the Tibetan guide and vehicle. The Everest Base Camp tour departs from Kathmandu regularly between April and October. At other times, the operation of the tour depends on the weather – Tibet has a harsh climate in winter and the high passes can become blocked with deep snow.
Our company arranges the Tibet group visa and all your necessary travel documents in advance – all you have to do is choose your departure date and send a photocopy of your passport via fax or mail. It's hassle free! We operate this tour either for individuals or for small groups.
Trip Itinerary
DAY TO DAY PROGRAM

Day 1: Drive, Kathmandu to Nyalam (3750 m.): 115 km. 7 hours
Early morning drive from Kathmandu to Nepal-Tibet border (Kodari) by private vehicle. After finishing immigration formalities both Nepal & China side, you will continue drive up the steep switch back road to Nyalam
Overnight at Shisapangma Guesthouse (dormitory room with common toilet)
Day 2: Drive, Nyalam to Tingri (4350 m.): 215 km. 5 hours
After breakfast, you will commence your journey to Tingri. You will visit Milarepa cave (10 km further drive from Nyalam) on the way. This cave-monastery is the famous meditation refuge of Milarepa, the celebrated Tibetan philosopher and poet. From this point, your journey continues across the Tibetan plateau with spectacular mountain views from Lablung-La pass (5050m). Tingri is an old town from which you can see Mt. Everest and Mt. Cho-Oyu.
Overnight at Snow Leopard Guesthouse (dormitory room with common toilet)
Day 3: Drive, Tingri to Rongbuk village (4920 m.) – 106 km. 3 hours
You reach Mt. Everest Base Camp today. Rongbuk is the home of the highest Monastery in the world, which is located 8 kms from Everest Base Camp. There are magnificent views up the valley of Mount Everest and Cho-Oyu which can be seen from the guest house.
Overnight at Rongbuk Guesthouse (dormitory room with common toilet)
Day 4: Rongbuk to Shigatse (3900 m.) via Sakya and Natang Monasteries – 437 km. 8 hours
We will take a morning excursion to the Mt. Everest Base Camp. After breakfast, we set off for Shigatse, one of the most historically significant villages in Tibet. On the way, we visit Sakya Monastery. Sakya Monastery is one of the largest monasteries in Tibet, and is home to the Sakyapa sect of Buddhism.
In Shigatse we visit the Tashilungpu Monastery, the official residence of the Panchen Lama's, which was built in 1447.
Overnight at Gang-Gyan Orchader Hotel or similar (twin-beds room with attached bath)
Day 5: Drive, Shigatse to Gyantse (3950 m.): 92 km. 2 hours
After visiting the Tashilungpu Monastery in Shigatse, it's a short drive to Gyantse with its amazing sites – Khumbum, Palkor Chode Monastery and Gyantse Dzong
Overnight at Hotel Zongsan (twin-beds room with attached bath)
Day 6: Drive, Gyantse to Lhasa (3650 m.) via Yamdruk Tso Lake: 304 km. 6 hours
The highlight of this day is the beautiful turquoise lake (Yamdruk Tso). After crossing the Kamba- La, Karo La and the Yarlung River (Brahmaputra), the journey ends in Lhasa.
Overnight at Hotel Flora (twin-beds room with attached bath)
Day 7: A full day guided sightseeing tour

Guided cultural excursion in Lhasa – you will visit Jokhang temple, Barkhor Bazaar, Potala Palace and Norbulinkha Palace (the summer Palace of Dalai Lama).
Overnight at Hotel Flora (twin-beds room with attached bath)
Day 8: A full day of sightseeing
You will see Lhasa through the eyes of a local Tibetan; the cultural splendor, architectural beauty and historical significance – you will visit Drepung Monastery, Sera Monastery and the Tibetan medical center.
Overnight at Hotel Flora (twin-beds room with attached bath)
Day 9: Tour Finish
Today, you may choose to depart from Lhasa. It is possible to fly out from Lhasa to Kathmandu or any other major city of China. Alternatively you can also take the world's highest train from Lhasa to Mainland China or Fly to Kathmandu.
Trip Inclusion
Fixed Departure Dates From Kathmandu (2014) Every Saturday
| | | | | | | | |
| --- | --- | --- | --- | --- | --- | --- | --- |
| May | June | July | Aug | Sep | Oct | Nov | Dec |
| 10 | 07 | 05 | 02 | 06 | 04 | 01 | 06 |
| 17 | 14 | 12 | 09 | 13 | 11 | 08 | 13 |
| 24 | 21 | 19 | 16 | 20 | 18 | 15 | 20 |
| 31 | 28 | 26 | 23 | 27 | 25 | 22 | 27 |
| | | | 30 | | | 29 | |
---
Note:
Flight Ticket: The flight ticket for Kathmandu – Lhasa or v.v. booked through us in economy fare cost US $ 430 per person one way and round trip cost US $ 760 per person.
The flight tickets mentioned above are subject to change as per availability of the seats and according to Air China fare policy.
Visa: The current visa fee will be effective until Chinese Embassy apply new fee.
The current visa fee for US Nationals is US $ 175 and other national fee cost is US $ 85.
Visa application days are Monday, Wednesday & Friday so the clients should reach in Kathmandu before a day advance than of these visa working days to apply visa.
Passport Type: Passport should be normal/ordinary. Chinese Embassy refused to give visa in Kathmandu for Diplomatic passport holder and the passport holder of Bangladesh, Pakistan, Iraq, Afghanistan etc and few South African countries as well as for the reporters/journalist; so we regret for unable to manage tour in Tibet for them. French passport holder can get visa in normal process with 5 working days so they have to reach Kathmandu accordingly about a week before.
Accommodation: The accommodation for budget tour is basic level. Guesthouse in mountain region has very basic dormitory room with common toilet (not clean) and 2 star category of hotel will be provided in city area with good twin/double/triple room and attached bathroom (clean).
The accommodation for standard tour is upgraded into middle class hotel using 3 star hotel in city only with private room and the same quality of basic guesthouse with sharing in a group in mountain region. 3 star hotel have standard room with attached bathroom and hot shower.
Deluxe accommodation in 4/5 star hotel will be provided for deluxe tour in Lhasa with all international level of facility and 3 star level standard hotel in Shigatse & in Gyantse city. And the common sharing room with group in budget guesthouse as similar to above description in mountain region.
Transportation: The transportation in Tibet will be most probably hiace van (comfortable) as 1st priority for the group within 5 persons. And for the group of above 6 persons, normally we use Landcruiser Jeep. Sometimes, we will also manage Landcruiser Jeep for small group also as per the feasible situation or availability or necessity. And normal private bus or Hiace van in Nepal for Kathmandu – Border (V.V.) transfers.
Guide: Guide will be English speaking with good knowledge about Tibet and the sightseeing points. However, the quality of English language speaking of guide is standard level, not highly proficient.
General Service: Welcome by Khada (the holy scalf) and mineral water on arrival in the airport at Lhasa for all kind of tour option.
Also, we provide mineral water during two days sightseeing tour in Lhasa for standard & deluxe tour.
Trip Exclusion
Extra Services
Related Trips