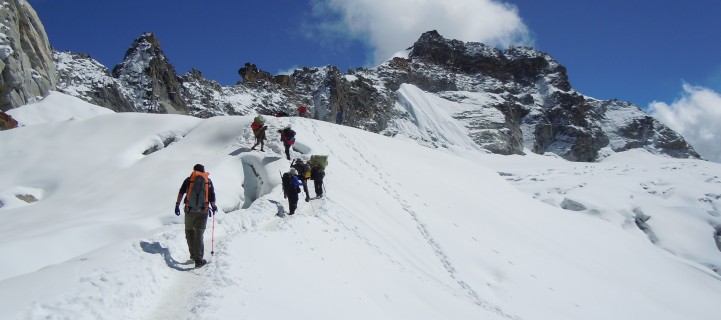 For many mountaineers climbing Island Peak marks the beginning of climbing on Himalayas to prepare for a big Himalaya expedition in Nepal in later years. For some mountaineers the peak stands for the purpose of acclimatization before heading to bigger mountain climbing. Trekking to Kalapatthar or Everest base camp is best suited for acclimatization before proceeding Island Peak climbing. Island peak climbing in Nepal is the popular choice for trekkers among the Everest region. You just have to add few more days to climb Island peak on the way of your Everest Base camp trek. Island peak climbing is becoming trekker?s admired climbing peak in Nepal due to the stunning views and easiness to climb. Island Peak 6169m also known as Imja Tse is one of the popular trekking peak in Nepal for climbing on Himalayas. From Dingboche the mountain is seen as an island peak in a sea of ice. The summit is interesting and attractive with a highly glaciated west face rising from the Lhotse Glacier. The ridge rising to the south from this point leads to the summit of Island Peak. Imja Tse not only provides an enjoyable climb but also provides some of the most spectacular scenery of Himalayas in Khumbu region. Seen from the summit the giant mountains/ Everest, Nuptse (7,879m), Lhotse (8,516m), Lhotse Middle Peak (8,410m) and Lhotse Shar (8,383m) make a semi circle in the north.
Trip Itinerary
Day 01: Arrive in Kathmandu
Day 02: Sightseeing tour in Kathmandu
Day 03: Flight to Lukla & trek to Phakding
Day 04: Trek to Namche (3,450m)
Day 05: Rest day in Namche
Day 06: Trek to Thyangboche (3,850m)
Day 07: Trek to Pheriche (4,250m)
Day 08: Trek to Lobuche (4,900m)
Day 09: Trek to Gorak Shep (5,150m)
Day 10: Trek to Everest base camp (5,400m) and trek back to Lobuche (4,900m)
Day 11: Trek to Dingboche (4,350m)
Day 12: Trek to Chukhung (4,750m)
Day 13: Trek to Island Peak Base Camp (5,150m)
Day 14: Ascent of Island Peak (6,189m)
Day 15: Rest / Weather day
Day 16: Trek to Pangboche (3,900m)
Day 17: Trek to Namche (3,450m)
Day 18: Trek to Lukla (2,800m)
Day 19: Flight to Kathmandu
Day 20: Free day in Kathmandu
Day 21: Final Departure.
Trip Inclusion
Trip Exclusion
Extra Services
Related Trips