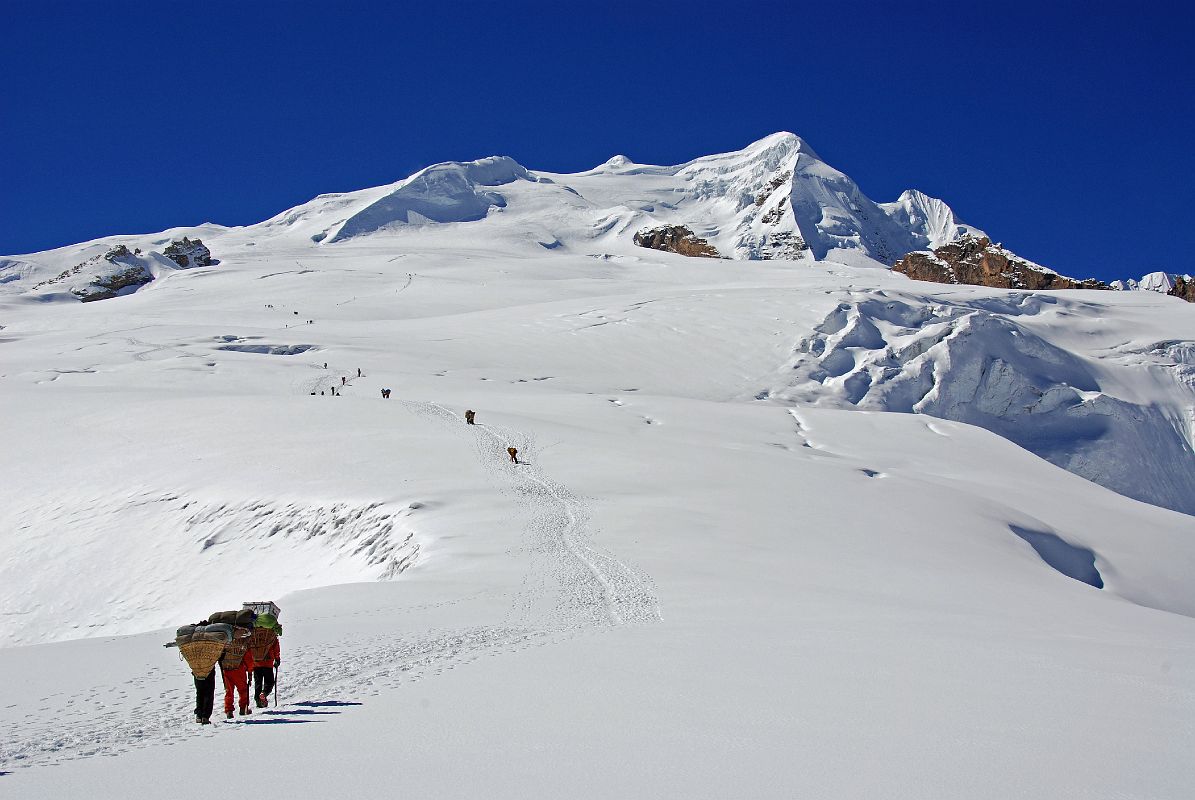 One of the major & the most popular trekking peak in Nepal is possibly the Mera peak located to the south of Everest. Mera peak is considered one of the major and popular trekking peaks in Nepal. The Peak itself rises to the south of Everest. The ascent of the peak is technically straightforward, however, the heavy snow and the maze of crevasses can make the way longer to the summit. Trek to Mera Peak is a challenging mountain trek. Mera Peak is the highest trekking peak in Nepal. Mera Peak (6476 m) lies in the Everest region of Nepal. Mera Peak is the best place to view above 8,000m peaks Mt. Everest, Mt.Lhotse, Mt. Makalu and Mt. Kanchenjunga. Trek to Mera Peak starts from North West of Lukla crossing a high pass Zatra La. The standard route from the north involves high altitude glacier walking. Good weather and snow conditions are of great necessity for the safe and successful climbing. Mera peak trek provides the proper acclimatization to the high altitude. It has been a very popular destination to many adventure trekkers and climbers.
Trip Itinerary
Day 01: Arrival Kathmandu & Transfer hotel.
Day 02: Sightseeing in Kathmandu
Day 03: Kathmandu to Lukla to Phakding.
Day 04: Phakding to Nyamche.
Day 05: Nyamche to Tyangboche.
Day 06: Tyangboche to Phakding.
Day 07: Phakding to Lukla to Chutanga.
Day 08: Chutanga to Chatarbu.
Day 09: Chatarbu to Kothe.
Day 10: Kothe to Thangnak.
Day 11: Thangnak Rest.
Day 12: Thangnak to Khare (Mera B.C.)
Day 13: Khare Rest acclimatization.
Day 14: Khare to Mera H.C
Day 15: High Camp to Climb Mera peak/- Khare.
Day 16: Khare to Kothey.
Day 17: Kothey to Chatarbu.
Day 18: Chatarbu to Lukla.
Day 19: Lukla to Kathmandu.
Day 20: Final departure.
Trip Inclusion
Trip Exclusion
Extra Services
Related Trips