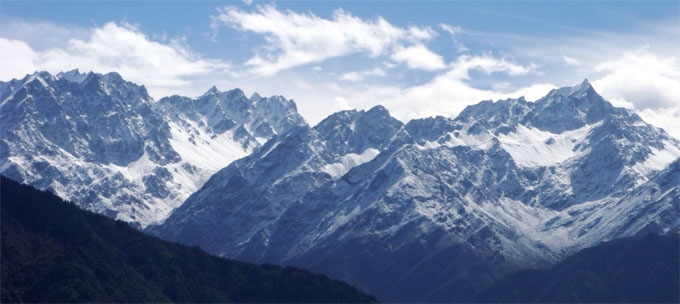 Naya Kanga (5,844 m) rises to the west of Ganja La, and is a popular but difficult mountain to climb. The normal route to this peak is via the snowy north east ridge. It is not yet certain who climbed this summit first. The most important reward of climbing Naya Kanga is the spectacular view of mountains in or near Tibet. Langtang is a popular destination for climbing snow peaks and spectacular panoramic views of mountains in Nepal and Tibet. The availability of several snow peaks scattered around in Langtang for acclimatization make this region an ideal destination for mountaineers. Many small peaks in this region which require no previous climbing experience are suitable for even trekkers to have little taste of what's like climbing in Nepal. Naya Kanga is an attractive peak rising to the west of the Ganja La. Ascending to Ganja La or the summit of Naya Kanga offers the spectacular panoramic views of mountain in Nepal and tibet including Langshisa Ri (6370m), Pemthang Ri (6836m), Shishapangma (8046m), Langtang Lirung (7425m), Pemthang Kapro Ri (6830 m) and Langtang II (6571 m). We follow the route of Langtang trek to Kyangjin (3749m) for the ascent of Naya kanga. To the north above Kangjin, there are several hills that provide both the magnificent views and the acclimation. north east of kyangjin ri (4700m), there are two peaks (5500m) and Tsergo Peak (5749m) that provide good climbing for acclimation. The normal route for Naya kanga peak climbing is North - East Face and north Ridge.




Trip Itinerary
Day 01: Arrive at Kathmandu Airport and transfer to Hotel.
Day 02: Sightseeing in Kathmandu Valley
Day 03: Drive from Kathmandu to Dhunche (1966m.).
Day 04: Trek from Dhunche to Syabru Gaon (2581m.).
Day 05: Trek from Syabru Gaon to Lama Hotel (2470m.).
Day 06: Trek from Lama Hotel to Langtang village (3430m.).
Day 07: Trek from Langtang Village to Kyangjin (3749m.).
Day 08: Rest day at Kyangjin Gompa and excursion around.
Day 09: Trek from Kyanjing Gompa to Naya Kanga Bese camp 4400m.
Day 10: Rest in Naya Kanga Base camp.
Day 11: Summit Naya Kanga 5844m.and back to Base camp.
Day 12: Trek back from Base camp to Kyanging Gompa.
Day 13: Trek from Kyangjin Gompa to Lama Hotel.
Day 14: Trek from Lama Hotel to Syabru Besi.
Day 15: Syabru Besi to Kathmandu
Trip Inclusion
Trip Exclusion
Extra Services
Related Trips