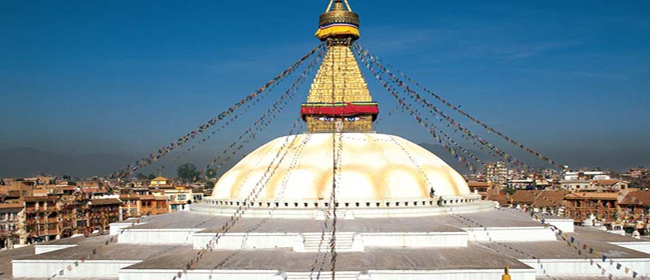 Kathmandu, A 218 square miles of land, situated above 4400 ft above sea level with three historic, artistic and cultural towns namely Kathmandu, Patan and Bhaktapur together form what is known as the `Kathmandu Valley'. Kathmandu is the hub of Nepal's traditional culture and arts. This is the place for rest, relaxation and easy-day sightseeing of historic and artistic temples and monuments, and mountain views. Being the capital city of Nepal, it offers many services including international airlines, hotels and other facilities. One also enjoys Kathmandu for night life, shopping and of course for the mountain views.
The political, commercial and cultural hub of Nepal is the first stop for the majority of visitors to the country. Once a separate kingdom in itself, it contains three fabled cities – Kathmandu, Patan and bhaktapur. Out of ten UNESCO World Heritage Sites, seven cultural heritage sites are in Kathmandu Valley. The history of the Valley begins with the Buddhist saint Manjushree who slashed a passage through the surrounding hills to drain out the primordial waters and make it inhabitable. Over the centuries, a refined urban civilization emerged, built on a unique synthesis of Hinduism and Buddhism.
Dynasties came and went. Trade and the arts flourished. Its deeply religious Newar inhabitants bilt fabulous cities and artistic temples that attracted devout pilgrims as well as rampaging invaders. In the late 18th century, following the founding of modern Nepal within more or less the present boundaries, Kathmandu was made the capital. Kathmandu, the largest city in Nepal is situated at an altitude of 1,350m.
Outline Itinerary
Day 01 Arrival day in Kathmandu (1,300m/4,264 ft)
Day 02 Visit Kathmandu valley
Day 03 Mountain flight for 1 hour & visit Bungmati & Khokana
Day 04 Kathmandu valley sightseeing and drive to Nagarkot
Day 05 Sunrise view and Changu Narayan Sightseeing and drive to Dhulikhel
Day 06 Drive to Kathmandu & free day in Kathmandu
Day 07 Departure from Kathmandu
Trip Itinerary
trip itinerary
Trip Inclusion
trip inc
Trip Exclusion
trip exc
Extra Services
extra services
Related Trips