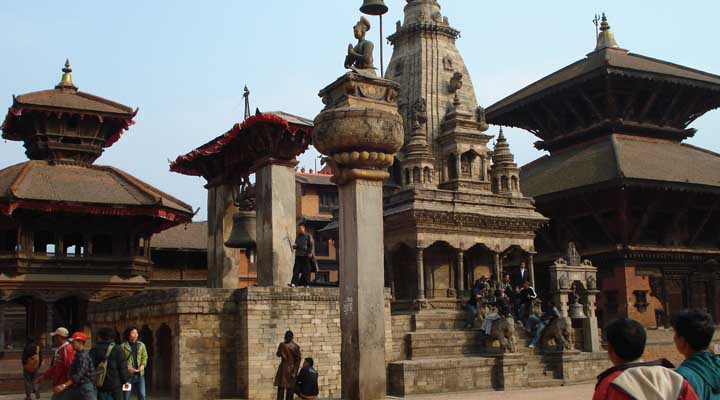 Nepal offers captivating, cultural, religious and friendly tour destination for its travelers. Nepal is the best Cultural and religious tours destination of the world and its capital, Kathmandu valley is generally packed with people flowing in from all parts of the world. Plan a holiday trip to Nepal with Himalayan Planet Adventures. If you never been to this beautiful country Nepal. Don't miss the chance! Apart from sightseeing tours of its splendid monuments, the country offers numerous other options to the tourists to enjoy themselves fully. For instance, one can indulge in trekking, hiking, camping, mountain biking, river rafting, fishing, etc. There are also a number of national parks and wildlife sanctuaries in Nepal, which serve as a treat for nature lovers. Saw some beautiful waterfalls or explore the wonders of Nepal including local cuisine. Nepal is the preferred tourist destination for those coming to Asia on Adventure tours.
Explore the world heritage sites in Kathmandu, enjoy the sunrise on the Himalayas from Nagarkot or relax in the beautiful lake town of Pokhara. Visit Lumbini, the birthplace of the Buddha or for a more exciting experience find our Nepal holidays combined with soft adventures like elephant back safari or river rafting. And last but not the least; join our spectacular Mt Everest flight tour aimed to show you Mt Everest by flight. How can a tour to Nepal be complete without seeing Mt Everest?
Outline Itinerary
Day 01:
Arrival day in Kathmandu (1,300m/4,264 ft)
Day 02:
Visit Kathmandu valley
Day 03:
Mountain flight for 1 hour & visit Bungmati & Khokana
Day 04:
Kathmandu valley sightseeing and drive to Nagarkot
Day 05:
Sunrise view and Changu Narayan Sightseeing and drive to Dhulikhel
Day 06:
Drive to Kathmandu & free day in Kathmandu
Day 07:
Kathmandu – Gorkha [150 Km – 5 Hours]
Day 08:
Full Day Sightseeing in Gorkha
Day 09:
Gorkha to Bandipur.
Day 10:
Bandipur to Pokhara.
Day 11:
Pokhara Sightseeing
Day 12:
Drive from Pokhara to Lumbini
Day 13:
Full Day Lumbini Sightseeing
Day 14:
Lumbini to Chitwan
Day 15:
Full day Jungle activities
Day 16:
Chitwan – Kathmandu [160 Km – 5 Hours]
Day 17:
Departure from Kathmandu
Trip Itinerary
itinerary
Trip Inclusion
inc
Trip Exclusion
exc
Extra Services
extra services
Related Trips