Nepal is home to eight out of the fourteen highest peaks in the world with colorful and intricate Hindu religion to the austerity of the Buddhist monasteries. From these breathtaking heights, rivers crash down through the foothills, fed by monsoon rains and melting snow, on their way to the Great Plains of the Ganges.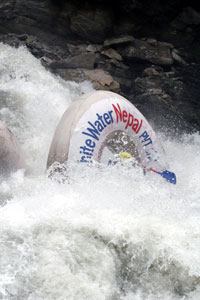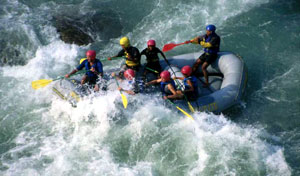 Nepal has many rivers for you to explore: Trishuli River (rafting for 1 up to 3 days), Seti River (rafting trip 2 days), Bhote Koshi River (rafting 2 days), Kali Gandaki River (rafting 3 days), Marsyandi River (rafting/kayaking 4 days), Sun Koshi River (rafting 7 to 9 days), Arun River (rafting adventure 9 days), Karnali River (whitewater rafting 10 days), Tamur River (rafting adventure 11 days). On these rivers you will find the world's most thrilling whitewater with a wide range of difficulties, warm water and bug free beaches for camping. All this makes a wealth of unlimited opportunities for great river rafting, kayaking, climbing, mountaineering, biking, hiking and ever popular trekking adventures in Nepal. Nepal has something to offer to everyone.
We are proud to share our wonderful country, culture and our many years of experience in this field with you and give you an excellent opportunity to explore the remote countryside which is never possible without river trips.

BUNGY JUMP NEPAL
After 3-hour ride from Kathmandu, The Last Resort is located on top of a gorge close to the Tibetan border. Luxurious safari tents are set in lush gardens for a peaceful stay in an exotic setting. The Bungy bridge happens to be the only privately owned bridge in Nepal. It has been specially designed for bungy jumping with a 4x-safety factor and has a loading factor of 41,500 kg or 4.5 tons according to Swiss measurements.
Location
Access: 3 hours outside Kathmandu by Ultimate Bungy Shuttle to within 12km of the Tibet Border.
The Gorge:
Ultimate Bungy Nepal takes place on a 166m-wide steel suspension bridge over the Bhoti Kosi River.
The Bridge:
Swiss designed, specially for bungy jumping with a 4x safety factor. The bridge has a loading factor of 41,500kg or 4.5 tones. And those are Swiss measurements! The bungy bridge is the longest in Nepal and also the only privately-owned bridge. Before its construction, locals walked five hours to cross this river gorge.
The Jump:
Ultimate Bungy at The Last Resort in Nepal may be the most spectacular Bungy Jump on the Planet. This
remarkable 500ft (160m) drop into the Bhoti Kosi River gorge on the Nepal/Tibet border is the longest free-fall in the world. Designed, constructed and operated by very experienced Kiwis to exacting international standards your safety is guaranteed. It is Nepal's Ultimate Rush., Imagine a bridge over a 160-metre tropical gorge with the Bhote Kosi, one of the world's wildest rivers raging below… Now Jump.
The packages fix includes private transportation to and from The Last Resort, the most spectacular Bungy jump in the world, rafting the full Bhote Kosi on the second day, and an overnight stay at the Last Resort:, lunch and dinner the first day, breakfast and lunch the second day. Rafting includes expert guides, safety kayakers, and world-class equipment - it's a matter of style…
FREE-FALL Nepal - full day
The Ultimate BUNGY JUMP… This includes transportation to and from The Last Resort and the most spectacular bungy jump in the world, an action-packed, long day trip, with lunch included.

Anyone who wants to take a taste of bungee jumping should not have any of the health problems mentioned below:
Heart disease
Epilepsy,
High blood pressure,
Pregnancy,
Addiction to alcohol or drugs,
Orthopedic problems,
Psychological problems,
Neurological problems.
Price Costing: Euro 75.00 - 1 Time Jump / Both way Transportation & Lunch